Want to give your home that laid-back and peaceful ambience?
Gray wood internal doors create a neutral backdrop for any modern home. These gray oak internal doors give your home interior a fashionable and contemporary touch while allowing furniture pieces to stand out.
For more inspiration, United Porte has a plethora of gray interior modern door designs for you to select from.
Transforming your home with finely sculpted gray oak interior doors is a great idea. Here are some of the benefits of having a gray color door.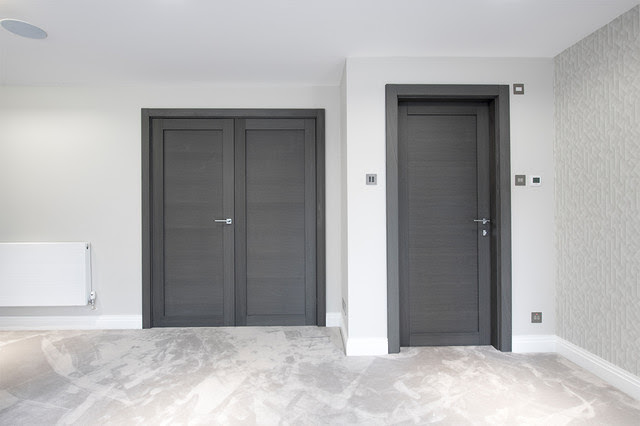 Pros of gray internal doors from United Porte
United Porte's gray wood interior doors feature a consistent and long-lasting finish, with an on-trend gray-colored wooden impression that's perfect for expressing modern style and elegance. These doors can complement or contrast practically any modern interior style.
The doors also provide excellent sound insulation. They reflect sound. So, instead of reverberating around the house, the sound effect is kept within the room, causing less disruption. This quality makes them great for noisy areas like play and music rooms.
Our gray finished internal doors are ready to hang as soon as you receive them home. This product saves both time and money by eliminating the door finishing procedure.
Because of the advantages of its enamel characteristics, gray wood internal doors are scratch-resistant and easy to clean.
Given their versatility, gray internal doors are a wonderful choice for your home. You will have a variety of styles to pick from, such as an old-style farmhouse look or a modern luxury estate home look.
The best thing about a wood door with gray paint is that it offers many interior rooms a much warmer feel than the darker doors we were used to.
What doors materials are used for interior doors in gray?
United Porte interior doors are built of premium, high-quality materials, such as natural oak with a gold or silver patina.
Natural Oak Veneer. The high density of natural oak veneer makes it ideal for construction since it is sturdy, tough, and long-lasting. It also lasts a long time because of its high tannin content, which naturally protects it against insects and fungus diseases. The natural oak veneer in the included decor has been professionally brushed to make it more rough and expressive.
Enamel. Any solvent-based paint that dries to a hard, vitreous-like surface is referred to as enamel paint (glass-like). Enamel is impermeable, sanitary, and extremely durable. So, the highest grade enamel is applied to the brushed oak veneer, producing a distinctive wood surface design.
They're then placed into a jamb and completed with subtle metal hardware for easy installation.
Where to order custom gray doors for interiors?
Gray interior doors from United Porte are fully finished, which means you won't have to decorate the door. The doors are ready to use right away.
We have an exclusive variety of internal gray doors available at United Porte, each one designed to fit the style and feel of your modern home interior. Also, we have a large selection of doors in stock, allowing us to deliver your new door in 3 to 5 business days. Our talented designers do not compromise on quality to save money. Buying a door from us is affordable, secure, and you are guaranteed to get a high-quality product.
Contact us if you also have any questions about any of our french wood doors for interior.