Wooden interior doors with glass
When looking for a wooden interior door with glass Menards, United Porte is your best bet. Their interior wood doors with glass panels are of high quality and also add décor, bringing internal beauty to your home.
The aesthetic beauty of glass doors adds a lovely accent to the architecture of any home or office. They are equipped to add the illusion of extra space to any area. This is the reason that glass doors have apparently gained a lot of popularity these days and thus a wide variety of designs of glass doors are available for all options.
Wood may look prettier to some but you should keep in mind that it has a short life expectancy. Metal lasts long but is a strong conductor of heat and cold. Our experts will help you in choosing the right type of wooden door which will not only complement your interiors but will prove worth your investment. Read this post and check out how glass doors can prove to be the best choice for your home!
Advantages of an interior wooden door with glass
The advantages are:
The amount of additional light becomes more
They increase the amount of extra light that flows seamlessly into your beautiful house.
Visually more space
Interior doors with glass panes create an illustration of a larger space.
Better visibility
Incorporating a modern interior wood door with glass provides better visibility.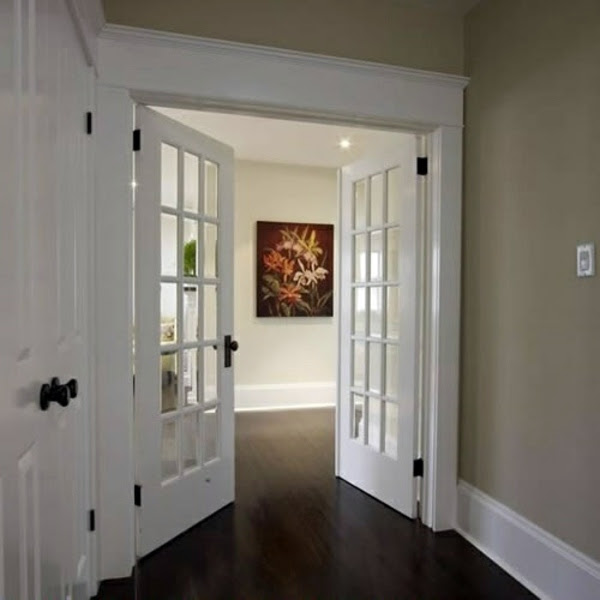 How to choose the best option for your home?
Different factors need to be evaluated while selecting a glass door design for your home. This is because glass doors can be transparent, frosted, colored, patterned, or tinted! You can browse through tonnes of its designs that can provide an elegant and sophisticated look to your unit.
There are plenty of accents available for accents available in glass segment also. Mostly all the interior and exterior door types available in the glass segment are available with decorative glass but we can carve out the plain and simple glass if you require. Most of them have insulated glass for energy efficiency or contain a little staining with genuine brass caming or are silk-screened for that extraordinary look!
If you are thinking to choose the door type for your patio then sliding doors can serve as a great option. They are easy to operate because they bear the entire weight of themselves. Also, they save a lot of space and make an ideal option for the paces or rooms having space constraints. From a security angle, it is not very easy to lift them off their rails! Also, they come with weather stripping with antimicrobial protection which prevents the growth of bacteria and mold. It provides an unobstructed and clear view successfully and is also surrounded by foam which acts as a thermal insulator.
If the traditional looks of wooden glass-paneled wooden doors attract your eyes then we have a solution to that as well! Our craftsmen have also impressed customers with an exciting blend of wood and glass where wood provides sturdiness to the door and glass successfully provides a warm appearance! Wood grain texture is molded into the glass to make the door resistant to all sorts of weather and proves to be an excellent choice for high-traffic areas as it is resistant to scratches and dents!
If you are looking for a glass window then we also have transoms available for all types of doors. These transoms are available in three distinct shapes namely arch, ellipse, and box to provide flexibility in adjusting to all kinds of them.
Safety is the main priority. Interior doors with decorative glass can be made from MDF and toughened or tempered glass for enhanced durability and increased strength. Clear glass is not suitable for all rooms. You can have painted or frosted options when you need privacy. We can also help you identify the best solid wood doors from manufacturers.
Why should you order modern wooden interior doors with glass in United Porte?
United Porte has a variety of doors for interior decoration. They give your house a dignifying look. Also, they go a long way to achieve an ultra-modern and beautiful look spiced up with clean lines. United Porte is a top manufacturer of doors, and they have all you need to charm your home.
If you are new to this home improvement industry then don't worry as we are here to educate everyone out there! We always emphasize providing you with the information and resources which help you in taking the best decision for you and your family. So if at any point of time any sort of perplexity surrounds while choosing the right type of door then count on us with closed eyes! We promise to provide you with a guaranteed solution at a reasonable price.